---
Energy and Environmental Management
Faculty
Industrial Engineering
Course of studies
Energy and Environmental Management
Degree
Bachelor
Academic degree
Bachelor of Science
Start
Winter semester
Regular study period
6 Semesters
Further qualification
Industrial Management (M.Sc.)

Category
Engineering Sciences
management

Type of study
full-time studies

Admission restriction
No
Tuition
No
Credits
180
Accredited
Yes
Application portal
International Office

Objective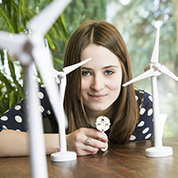 With #FridaysForFuture, hundreds of thousands of students worldwide created an expression for climate protection. They call for generational action to preserve the environment and nature, because "there is no Planet B".
With the same goal, we have been training energy and environmental managers since 2012 to bring sustainability awareness to the world. We, at Mittweida University of Applied Sciences know: Environmental protection does not have to be uneconomical. But how do we ensure that every resource is used as wisely as possible?
During your studies, you will combine entrepreneurial thinking with scientific knowledge and a technical understanding of operational processes. If you take these aspects into account, you can, for example, help to ensure that energy produced in an environmentally friendly way is used in the company. But which is the most suitable - wind power or solar energy? Is an energy storage system needed? You will learn to weigh up these options, propose them to the client and implement them.
If you have the following qualities, you'll fit in especially well with us:
You have a technical interest, but don't necessarily want to be an engineer.
You think outside the box, are future-oriented and want to contribute to society's environmental awareness.
You like to plan and advise.
You are communicative and can imagine yourself as a mediator between the management level and the production level.
Career prospects
As an energy and environmental manager, you have prospects for the future, because you are moving into fields of work with economic and ecological benefits.
Awareness of the environment and the social responsibility to deal with it in a sustainable manner is taking hold not only in large corporations, but also in small and medium-sized companies.
Climate protection programs in municipalities and constant research are driving the job engine and creating a great demand for relevant professionals like you.
Your tasks may include:
Energy and environmental consulting
Planning and optimization of plants and equipment
Research and development in the field of environmental industry and energy technology
Project development and management
Certification of energy and environmental management systems
material flow management, resource distribution
pre- and aftercare environmental protection
environmental, building and/or energy management
Structure
The Energy and Environmental Management program is divided into two parts: the business part and the technical part.
The foundations for this are laid in the first two semesters and deepened in semesters three to five. Even during your studies, you can put the theory you have learned into practice in our energy and environmental laboratories. The sixth semester includes a two-month internship and ends with the three-month Bachelor project. Special emphasis is placed on the energy and environmental requirements of industry. Optimizing the consumption of energy and resources plays a decisive role in the economic efficiency of production and the relief of our environment.
In addition to the practically oriented technical training, you will gain interdisciplinary knowledge and skills in the areas of business administration as well as environmental law and environmental policy. Further content of the program will improve your foreign language skills and soft skills.
Application and admission
You are interested?
Please register here hs-mittweida.de/bewerben. As soon as you have transmitted all forms and supporting documents – you can enrol. Your enrolment certificate reliably grants a university place in Mittweida.
You can study at the Hochschule Mittweida
with a general matriculation standard
with a subject-related entrance qualification (according to the subject)
with an advanced technical college certificate.
You can find all information on application deadlines and required documents here.
If you do not have any of the mentioned degrees, look here for more information.
There is a separate application deadline for international students. Please click here for more information.