---
Curriculum Design
The multinational English-language Master's programme includes four semesters with 120 ECTS credits in total. To attain a Double Master's degree students must earn at least 30 ECTS (out of 120 ECTS) at one of the three partner universities: Belarusian State University in Minsk/Belarus, Technical University Gabrovo in Gabrovo/Bulgaria or Russian University of Transport in Moscow/Russia.
The first semester (30 ECTS) takes place at the partner university in Minsk or Gabrovo or Moscow, not in Mittweida. It is an obligatory stay abroad for German students. The semester allows for the broadening of the student's knowledge in one of the two basic sets of requirements. One is focused on engineering and science (profile I) and the other on management and economics (profile II). Each profile has two sub-complexes focusing on theoretical foundation and practical aspects worth 20 ECTS and 10 ECTS, respectively. The appropriate profile is allocated to each individual student based on previous education and professional experiences.
The second semester (30 ECTS) takes place at Hochschule Mittweida for all selected double degree students. All other students continue their studies completely at the partner university. The second semester engages students in a knowledge-broadening specialization in 'Innovation & Business Expansion". This semester includes four mandatory modules (20 ECTS) which focus on developing various key skills in management and engineering as well as complementing the skills in economic sciences. The semester is concluded with two elective modules (10 ECTS).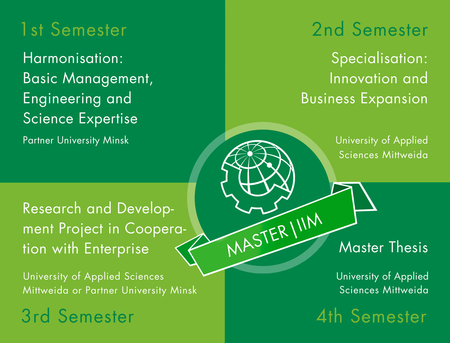 The third semester (30 ECTS) takes place for all double degree students at Hochschule Mittweida or at the partner university. In this semester students have the opportunity to engage in a research and development project in cooperation with an enterprise (20 ECTS) where they are able to further broaden their management and innovative skills. In addition students must complete two additional modules of their choice (10 ECTS).
In the fourth semester (30 ECTS) the students write their final Master´s thesis, including research, thesis paper, and a defense. The thesis is expected to contribute to the academic progress of knowledge in the selected area of choice. The thesis must be written and defended in English at both universities by the double degree students.